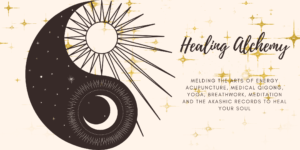 Dr. Julie Hutsell-Starling., DACM, Licensed Acupuncturist
All sessions are by appointment only. Please see drjuliehutsellstarling.com/healingalchemy for more information, to schedule your initial session, and if you have any questions, feel free to schedule a 15-minute complimentary discovery session to see if this work is right for you- link on webpage. You can also email [email protected] with any questions.
Momentum yoga students get 10% off all Healing Alchemy services. Please email her directly to schedule so she can send you the discount code.
About Dr. Julie:
Since 2000, Dr. Julie Hutsell-Starling, DACM has been discovering, studying, and experiencing the mind/body connection and multiple energetic modalities that allow you to tap into your body's innate sense of balance, health, and well-being.
Her journey started when she developed Repetitive Strain Injury from repetitive computer use when she was just 27 that then became diffuse myofascial body pain. After a pain specialist told her she would always have to be on pain meds and the pain would never go away as long as she kept using a computer, she chose to take a radically different path than she had planned to do. She began to study acupuncture and Chinese Medicine, and found them to be extraordinarily helpful with the pain. Becoming an acupuncturist inspired her to also become a health coach so she would have even more tools to help her patients, because she wasn't satisfied with just "fixing people" and sending them on their way. She wanted to empower them to take control of their health, their bodies, their emotions and ways of thinking. Along the way she has gathered many more tools to help people connect to themselves on the level of mind, body, and spirit, because they are ALL connected.
She uses Five Element acupuncture which is a lineage of acupuncture that views dis-ease as an imbalance on the spirit level that impacts the mental, emotional, and physical aspects of the body.
She uses Medical Qigong to tap into your vital energy from the deepest levels, to treat the root and allow the healing to occur in every cell of your body.
She accesses the Akashic Records for her clients so that they understand who they are at soul level- what gifts they have brought into the world and also what challenges they experience that take them out of alignment with who they are at soul level. She also does more in depth readings to clear out past life karmic patterns that have been impacting them in this lifetime.
Dr. Julie teaches her clients self-healing techniques including Ray of Light Meridian Therapy, Kundalini Yoga, Qi Gong (basically a type of Chinese yoga), breathwork practices, and meditation because they all connect you back to you.
Your sessions will include any number of these modalities in addition to acupuncture and medical qigong energy work, depending on what your body is needing that day. If you are doing a remote session she will use energy needles as your body needs.
She is passionate about putting the power and control back in your hands, because only you know what is right for you. The work you do together will allow you to tap into that intuition and inner knowing that has been there all along to guide you to your highest healing.
After 15 years of private acupuncture practice in the Triangle area of NC, she closed her successful practice, ready to let go of just being an acupuncturist to step into something bigger, though she wasn't sure what it would be at the time.
One year later, she opened Healing Alchemy on the Crystal Coast to take people to another level of healing, growth, and soul awakening. She now lives in Beaufort with her husband and three kitties and loves to love life.
Her education includes but is not limited to:
Kundalini Yoga Teacher, RYT 200, 2019
Qigong Teacher with Qigong Awareness, 2018
Doctor of Acupuncture and Chinese Medicine (DACM) from Pacific College of Oriental Medicine San Diego, 2016.
Integrative Nutrition Health Coach, from Institute for Integrative Nutrition 2013.
Master's of Traditional Oriental Medicine from Pacific College of Oriental Medicine San Diego, 2004.
Bachelor of Arts from University of California Berkeley in International Relations, 1997.
She is a licensed acupuncturist in the state of North Carolina and a Diplomate of Oriental Medicine by the NCCAOM (National Certification Commission for Acupuncture and Oriental Medicine).