Megan Barber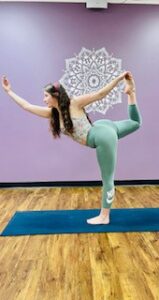 Megan has been actively practicing yoga since 2016 and has been teaching since 2019. She was first introduced to yoga through a required Somatic Theory course for her Dance Science degree in college. Within weeks she was hooked! Two years later she attended teacher training at Asheville Yoga Center and is now a registered yoga teacher (RYT200) through Yoga Alliance. Yoga has helped Megan through her recovery from eating disorders and depression, along with the more mundane, everyday challenges of life. Megan finds yoga to be an especially therapeutic form of movement not only physically, but mentally and emotionally as well. "There is so much healing to be found in connecting the mind, body, and Spirit." She is so excited to join the Momentum family and looks forward to meeting everyone on and off the mat!
Greg Bogard
Greg has been practicing yoga since 2011 and teaching since 2014. His

yoga journey began when, after seeking relief from years of typical middle-aged ailments, he decided to see if yoga could do what meds and physical therapists could not. Within months of beginning his practice, Greg was not only living free of pain, but through the inspiration of his instructors, had begun to realize there was wellness within the practice of yoga that went beyond the physical body. Desiring to learn more, Greg underwent teacher training and graduated the YogaWorks 200-hour program at MOMENTUM Yoga & Fitness in 2013 and completed his 300-hour program through Asheville Yoga Center in 2018. Greg is a Registered Yoga Teacher (RYT500) with the Yoga Alliance®. He is grateful for the opportunity to instruct while continuing to learn and grow as an enthusiastic student of the yoga tradition.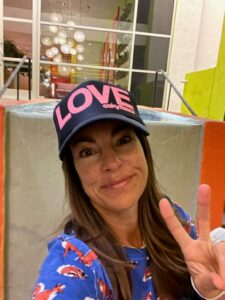 Dodi Darrow
Dodi grew up in NC, but has lived for the past 16 years out west in California and Colorado. She returned to her roots this past year with a husband and a couple of kids. She has coached and led fitness classes for over 20 years. Dodi is an ADAPT certified Functional Health Coach, leads mindfulness programs and wellness retreats. Dodi is on a journey of teaching others to cultivate healing and self-compassion with Guided Meditation, Somatic touch and movement, and other embodied practices. She is thrilled to be a guide at Momentum Yoga and Wellness.
Alicia Durham
Alicia Durham is a graduate of the Yoga Mojo Teacher Tr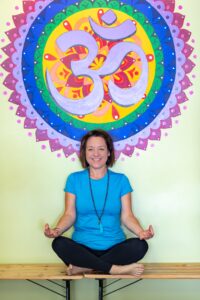 aining and is a RYT200 with Yoga Alliance. She brings to the mat a refreshing positive energy, as well as a lifelong love of teaching. Her relaxing stretches, playful Vinyasa flows and moving mediations will help you expand your flexibility, increase your strength and calm your mind. Her goal is to guide you to connect with your body, your mind and your spirit.
Julie Hutsell-Starling
Julie Hutsell-Starling is a KRI, RYT 200 Certified Instructor of Kundalini Yoga.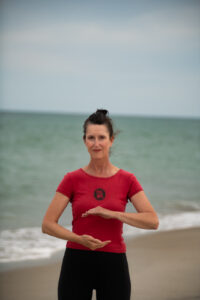 While she has practiced many types of yoga for many years, Kundalini yoga is what has brought about the most profound changes, healing, and transformations in her own life. As a result of the transformation it has brought for her, she is passionate about sharing this powerful yoga technology with as many people as possible, so that they may also experience deep healing and transformation in their own lives.
She sees Kundalini yoga as a powerful tool that people can use to help themselves through the struggles of life so that they may experience more joy, love, and happiness, and ultimately (re)find the beautiful light within them, their sparkling soul that desires simply to be seen and experienced for who it truly is.
She recently moved from Durham to Beaufort with her husband and three kitties, following her joy to the beautiful Crystal Coast and she is SO excited to join the beautiful Momentum Yoga Community!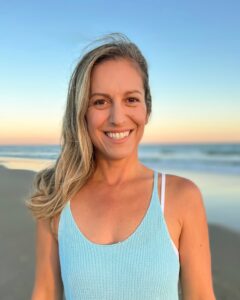 Sarka is passionate about helping people build strength and mobility through a core-based functional movement style of yoga, to find freedom and joy on and off the mat.
In 2013, Sarka completed her first 200-hour traditional, alignment-based Hatha and Vinyasa teacher training with Noah Maze, then in 2020, the 200hr + 100hr physical-therapy based LYT™ Yoga Method with Lara Heimann to learn more about anatomy, physiology, and neurology to assist people with injuries and/or physical limitations.
Her style is playful, positive, and motivating with fun, creative yoga sequences and optimal alignment cues for a safe, sustainable practice. She loves to teach all levels, all ages, all abilities, and believes yoga truly is for everybody and it's never too late to start. And it's possible to challenge and re-wire the brain and body to move more efficiently, live pain-free, and find balance and calm amidst a modern lifestyle of technology and sedentariness.
Born in Brno, Czech Republic, Sarka later moved to Toronto and Vancouver, Canada, then after meeting her husband, they lived all over the world – New York City, Tampa, Seoul, Singapore, Australia, Bali, San Francisco, Austin, back to Vancouver – and now settling in coastal North Carolina, her husband's hometown State. They have two girls, age 10 and 8, and a chocolate Lab. Sarka loves to go paddleboarding, golfing and camping.
Ferryn Logan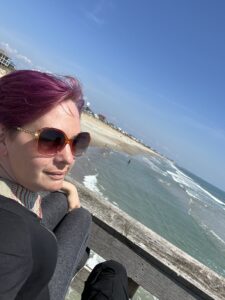 For me, yoga is about balance. The synergy of mind and movement. The harmony of strength and flexibility, exertion and releasing. My classes offer deep tissue release in the form of Yin style yoga and a blend of Yin and "Yang" style practices. Yin yoga is not as fast as other forms of yoga but it is no less a mental and physical workout. Yin yoga focuses on postures that target your deep connective tissue; fascia, ligaments, joints and bones. While "Yang" yoga focus on your muscles and building heat through movement. By blending these two practices you get the best of both forms. While Yin Yoga is my Passion, I also teach Gentle, Zen, Chair, Restorative & Childrens Yoga. I have a deep passion for knowledge and am always adding to my yoga "toolbox" with new certifications to offer a variety of styles for Every Body 😊
I find peace, spirituality and personal growth in my personal yoga practice and want to help others find their inner strength and passion as well.
Sharon Maloney
In 2008, Sharon graduated from Glenmore Yoga and Wellness with 200 hours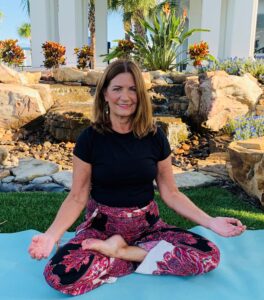 of course study in the Himalayan tradition.  This style explores the spiritual heritage of mankind that united East and West, spirituality, science and the ancient wisdom. She is registered E-RYT teacher with Yoga Alliance.  As a teacher for fourteen years, she enjoys teaching individuals and groups and leading workshops. Ayurveda, the sister science of Yoga is learning to live a balanced life, in harmony with your inherent nature, or Ayurvedic constitution. This is a passion she shares with Yogis that is beneficial to a reduction in stress, increased energy and an improved quality of life, Sharon guides students in their exploration of Yoga, helping them to achieve personal goals and find ease in their body and peace of mind.
Kristin Martin-owner
Kristin has practiced yoga for 20 years.  She came to Momentum Yoga in 2016 after moving from Roanoke Rapids, NC.  Kristin believes practicing yoga with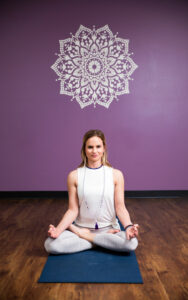 teacher Leilani Walker changed her life.  "Every time I came to Leilani's class she awakened my soul more and more.  Through her yoga flow, breathwork and meditation I began to connect to my authentic self.  In 2018 Momentum Yoga offered a teacher training program through Yoga Mojo and Kristin jumped at the opportunity to learn more about yoga.  "I never went into this journey with a desire to teach but a desire to learn!"  She embraced the training with her whole heart.  "I'm so thankful and grateful to Loretta Jo!  For the experience and her teachings!  There isn't a day that goes by that she doesn't use some of what she learned in the program.  For me the program was life changing!"  Teaching yoga has now become my passion!  I want to hold space for others to practice yoga, to connect with breath and each other that is safe so that they too can connect to their authentic selves.
Stacey Morris
I found Yoga on the path of my healing journey.
An inspirational meeting with Jade Morton started a life changing adventure that began with her Gentle Yoga and health classes that further led me to become a graduate the Institute of Integrative Nutrition and a Certified Health Coach where I learned holistic ways of healing from anxiety and illnesses that had me on 8 prescriptions a day!
After visiting Momentum I discovered a variety of yoga styles, where I met Kristin and her contagious Love of everything Yoga, which led me to become RYT 200 from the Yoga Teacher Training offered there with the incredible knowledge and guidance of Loretta Jo of Yoga Mojo.
Yoga continues to be the calming of my mind, improving my mobility & flexibility, finding my breathe and the healing of my Spirit.
After a class with Jade, she asked me if I ever saw myself teaching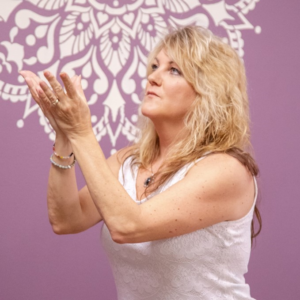 , I did not. Yet I fully embraced going through these amazing learning, healing journeys that now has me prescription free, it has become a practice I wish to share…
…a relaxed style infused with soothing music, aromatherapy & stretches mixed with gentle and organic movements in a comfortable, safe space to practice or start from wherever you are,
I hope to meet you on the mat. 💖
Alan Reynolds- E-RYT 500
Al started practicing yoga in 2004. After nearly two years of taking three classes a week and practicing at home Al realized that his consistent practice had lead to a transformation that left him at peace with himself and his life. It was at that time that he decided to become a yoga teacher so that he might help others experience the same transformation.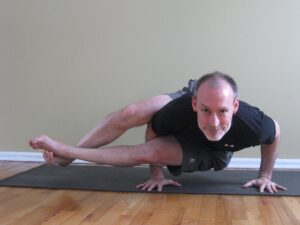 Al received his 300 hour and 500 hour (2009) certifications at Yoga Synthesis under Raji Thron. As a Yoga Synthesis teacher Al enjoys bringing different styles together to make each class a unique experience. Al believes that anyone can experience the positive transformation that results from a consistent yoga practice and seeks to give each student the ability to extend and deepen their practice to that end.
Al is also a Thai Yoga Massage practitioner having received a level 2 certificate from the Triple Gem School of Thai Massage in 2015 under Jeanette Sealy.
Courtney Rose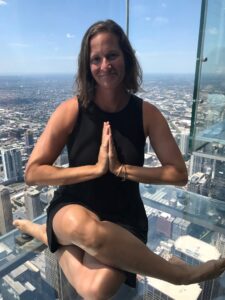 Courtney quickly found the physical benefits and gradually developed an emotional and spiritual
connection to yoga when she was a dance major in college. Yoga has helped her navigate
many of life's challenges including depression, pregnancy and injury. Courtney strives to make
yoga accessible to everyone by modifying poses and offering options to increase intensity
meeting each yogi's individual needs. She honors the connection between the physical and
spiritual benefits of yoga. Courtney understands the need for humility in ones' practice and
desires to share the healing effects of yoga with people of all ages and ability levels.
Juli Saylor

Juli's desire is to spread her passion for yoga on and off the mat. Teaching comes naturally to Juli and she brings great energy to the studio. She graduated from Seaside Yoga of Wilmington with her 200 RYT in September 2008 with an emphasis on Anusara yoga. Juli completed her 300 hour program in January 2016 through Asheville Yoga Center. She currently holds her 200-ERYT and 500 RYT. She honors her teachers Lisa Colletti, Susan Koepp, Ashley Ludman and Rachael Crawford Goolsby.
Leilani Walker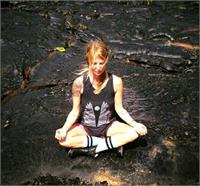 Leilani loves yoga. She believes that it has the power to connect us to our inner guide, reveal the truth of who we are, reset our happiness meters, and expand our compassion as we evolve from practicing yoga on the mat to the real beauty of being our practice.  Leilani has been practicing yoga since 2000. She completed a 240 hour certification in 2008 with The NC School of Yoga from the lineage of living yoga master Sri Dharma Mittra. In 2010 she completed an advanced yoga teacher training course with her teacher, Erich Schiffmann. She received her 500 hour certification after studying with Jill Sockman in Raleigh.
Mary Winter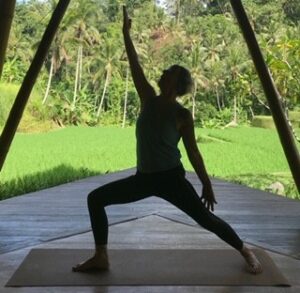 "Yoga will come to you when the time is right."  Mary came to yoga later in life after a traumatic experience in her life.  She was invited to try a free yoga class at which time her love affair with yoga began.  She has been an instructor for several years, and is a Certified RYT 200.  She is also a certified Aerial instructor, and has taken many workshops to expand her knowledge including with David Swenson, world renown Ashtanga Instructor, and Sarah Powers, Yin and Mediation instructor.
Her emphasis is on proper alignment, and the use of props and modifications, she works to make not only safe but accessible to everyone no matter what your age or fitness level.  She combines both yin yoga (a cooling practice that allows for the opening of the fascia and joints) with slow flow (Vinyasa) providing instruction on aligning breath with the fluid movements.  Classes are intended to meet all practitioners needs-and to honor and empower the students journey towards personal growth and well-being.  She believes that you "don't use your body to get into the pose, rather use the pose to get into the body."
With her passion for yoga as well as a light hearted sense of humor, she hopes that the student will not only gain increased physical strength, flexibility, and pain relief; but a deeper connection with Self, yoga, and the present moment that can be applied both on and off the mat.