5 in 1: Private Boat, Nature Walk, Beach Yoga, Wild Horses, and Shelling Excursion!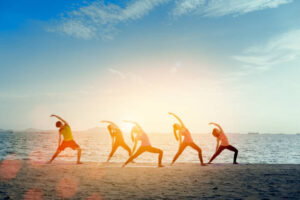 We will take up to 5 passengers on this special 5-hour excursion which will include: a wonderful boat ride; a nature walk; group Beach Yoga; hopefully seeing wild horses and discovering great shelling all in one day!!!!! (That's 5 exclamation marks!!!!!). 
Escape to Shackleford Banks where we will beach the boat, and, carrying your own beach towels, take a nature walk over to the ocean where our Certified Yoga Instructor, Kristin Martin, with Momentum Yoga & Wellness, will teach a 1 hour yoga practice that will add to your peace and relaxation during this one of a kind excursion. With the North Atlantic Ocean on one side and natural dunes on the other as our backdrop, we perform these mindful movements on the beach!
After a feeling of replenishment, we head back to the boat and travel to the quaint Town of Beaufort to get the view from the water looking into town, as well as viewing the Rachel Carson Reserve, plus viewing the Morehead City waterfront on our way back to Atlantic Beach.  Click the link for more information and to book!   H2O Captain EcoTour Boat Excursions.
SUP Yoga will return in Spring of 2022!
Dates and Times are listed on schedule.  If you need a different day/time we will be happy to accommodate, just let us know!!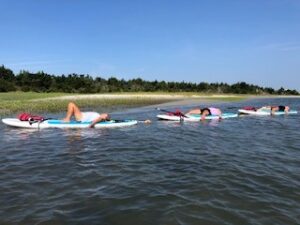 Prices:  SUP Yoga (w/ board rental)-$45  (Price includes anchor, life jacket and safety leash for ankle)
SUP Yoga (bring your own board)-$25  (Price includes anchor) Must bring a life jacket and safety leash for ankle.
DESCRIPTION:
Love paddle boarding and yoga? Then SUP Yoga is perfect for you. It is the complete combination of both. Instinctively, we know that being near water reduces stress, brings peace, and makes us healthier and happier. Similarly, the practice of yoga provides the very same benefits. Through yoga we deepen our awareness of the breath, synchronize breath with movement, and cultivate focus, flexibility, balance and strength. SUP Yoga is an amazing fusion of both!
In SUP Yoga, the board becomes your moving yoga mat! Adding the element of water and wind to the yoga practice allows you to find ease and strength in every pose. SUP Yoga is perfect for fitness enthusiasts and yogis/yoginis who are looking for a new experience and challenge! When you paddle with us, you'll hear lots of laughter, try new things, and experience the joy of soaking up the sun!
We will begin our class with a brief review to paddle boarding and safety instructions on land. We will then launch our board into the water at South 11th St. Water Access in Morehead City  (Kayak launch)  We will paddle over to a Sugarloaf  Island. Once there we will anchor our boards to the anchor line and begin our yoga session. During our 50 min. SUP Yoga Class, you will be guided through a Yoga practice. The instructor will tailor to the group's ability levels and interests. If you want to spend your class time mostly in Shavasana or you want to attempt a Headstand we offer something for everyone!  After class if time allows we will put our boards on the beach area to explore the island.   Duration of SUP Yoga is 90 minutes.
PRE-REGISTRATION IS REQUIRED:
SUP Yoga classes require pre-registration by 5 PM the day prior to class. We need a minimum of 2 students to have a class and a maximum of 6 students. You will register by going to www.momentumyoganc.com then click on schedule. You will be prompted to set up a user id and password. Then you will click on the class you want to book and pay and sign a waiver. You can also download the Mindbody app on your phone to book through Momentum Yoga. If you access the event via Facebook you can also click the ticket link and be directed to book and pay for the class from the website as well. If you need any help booking contact Kristin at kristin@momentumyoganc.com or call 252-247-9642.
PRE-REQUISITES:
Have good open water swimming skills, and have a basic level yoga practice (5-10 classes on the mat), and Paddle board experience.
LOCATION:
Please meet us at the Morehead City South 11th St. Water access (Kayak launch)  15 minutes prior to you class time! You will need to sign a liability waiver once you arrive. Be prepared and ready to go!!
HELPFUL TIPS:
Please arrive ON TIME! It's important you are present for all safety procedures before the paddle out.
Please wear either swim or yoga clothing. Keep in mind you will get wet.
Please wear SPF or appropriate sun protection. The water intensifies the sun, but proper measures will help avoid sunburn.
Hat or sunglasses are optional, but might be lost if you go for an "unexpected swim."  You may want water shoes to protect your feet from shells, etc.
We recommend you stay hydrated, and bring a bottle of water.
Please bring bug spray, if you wish.
Please leave all valuables in vehicle or at home. If you would like to take photos or bring items, such as car keys, with you, please bring a dry bag that can be secured on paddle board. The teacher will bring a phone to take photos and can send the pictures to the student if requested.
CANCELLATIONS:
If there is a cancellation due to inclement weather, all students will be notified via e-mail or telephone 1 hour prior to the class start time.  We will reschedule the class for another day or time in the future.