MOMENTUM yoga & wellness offers massage therapy  by Ellen Dauksys LMBT #7841
I've been practicing massage therapy for 17 years. I trained in Southern California and  North Carolina. When I came home to North Carolina I discovered they did not practice reciprocity with California so I had to go back to school to be licensed in North Carolina. That's how much I love what I do!
I'm trained in several different modalities including Swedish, deep tissue, hot stone and am certified in pre-natal massage as well as clinical aromatherapy and Lymphatic drainage .  I tailor your massage according to what you need – back pain, fibromyalgia, plantar fasciitis or to just relax!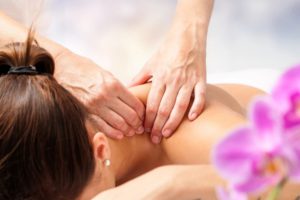 Contact Ellen directly for an appointment at (252) 646-3705.
•60 minute massage -$70.00
•90 minute massage-$95.00
•Add hot stones to any massage for an additional $15.00
Thai sachet meridian massage $20 extra 90 minute massage -take sachet home with you.
Quintessential luxurious massage 90 minute massage Aromatherapy $5 extra.
Ellen is currently offering a special; purchases four massages in advance and get the fifth massage free!  Perfect for holiday gift giving.
MOMENTUM yoga & wellness also offers massage therapy  by Jake Lilly LMBT # 18600.  Contact Jake directly for an appointment at (252) 671-4731.
Yoga became a primary source of truth and well-being for Jake after he came face to face with his own mortality. After several near-death experiences, brought on by a hereditary heart condition, Jake was obsessed with finding an answer to a fundamental question. What is my purpose as it pertains to the purpose of humanity? In his pursuit of finding an answer, Jake became a Registered Yoga Teacher in 2017. Not long after he became an instructor, he traveled to Oaxaca Mexico for 3 months to study Yogic Philosophy at Hridaya Yoga. In that time, Jake became very aware of life's inherent suffering. During his stay abroad, Jake made a vow to reduce the unnecessary suffering of all divine beings. He has since become a Licensed Massage and Bodywork Therapist and combines massage and yoga to offer his patients a truly holistic healing experience. Although he specializes in deep tissue work, he finds just as much healing can be done by offering a lighter massage. He often uses a variety of modalities in a session, tailoring the massage to the individual on his table. His passion for healing drives a pursuit of knowledge and has earned him an associate degree in applied sciences. He is on track to complete his certification for Thai Massage by the end of September, and plans to enroll a 500 hour yoga teacher training soon after. Jake is still diligently striving to find answers to subsequent questions that naturally follow his inquiry into purpose.
We also offer Reflexology sessions by appointment w/ Peggy Kittrell, 252-725-1851.
Some of the benefits of Reflexology are:

Increased circulation, reduction of pain, stress and tension, reduces headaches, boosts energy systems, promotes healing, and may help lessen side effects of some cancer treatments.  Reflexology is a noninvasive treatment safe enough for babies.
The more I learn about Reflexology, the more I like sharing the information about a simple and "feel good" therapy with clients, family and friends. Helping others feel better and have less pain and more energy brings me joy!
Reflexology Prices-60 minutes-$65; 30 minutes $30
Purchase 4 Reflexology sessions in advance and receive your 5th one  free!
The phone number to schedule an appointment at Momentum Yoga & Wellness, Morehead City, NC  252-725-1851.
Gift certificates are available at MOMENTUM yoga & wellness for Massage Therapy & Reflexology.
Intuitive Guidance Readings w/ Devorah Guidance, Friday's 10:00 am-3:30 pm.  Call Devorah to set up an appointment time, (252) 499-0883