MOMENTUM yoga & wellness offers massage therapy  by Ellen Dauksys LMBT #7841
I've been practicing massage therapy for 17 years. I trained in Southern California and  North Carolina. When I came home to North Carolina I discovered they did not practice reciprocity with California so I had to go back to school to be licensed in North Carolina. That's how much I love what I do!
I'm trained in several different modalities including Swedish, deep tissue, hot stone and am certified in pre-natal massage as well as clinical aromatherapy and Lymphatic drainage .  I tailor your massage according to what you need – back pain, fibromyalgia, plantar fasciitis or to just relax!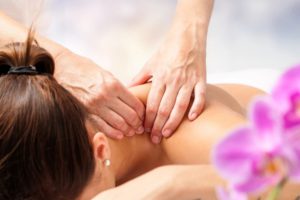 Contact Ellen directly for an appointment at (252) 646-3705.
•60 minute massage -$65.00
•90 minute massage-$95.00
•Add hot stones to any massage for an additional $15.00
Thai sachet meridian massage $20 extra 90 minute massage -take sachet home with you.
Quintessential luxurious massage 90 minute massage Aromatherapy $5 extra.
Ellen is currently offering a special; purchases four massages in advance and get the fifth massage free!  Perfect for holiday gift giving.
We also offer Reflexology sessions by appointment w/ Peggy Kittrell, 252-725-1851.
Some of the benefits of Reflexology are:

Increased circulation, reduction of pain, stress and tension, reduces headaches, boosts energy systems, promotes healing, and may help lessen side effects of some cancer treatments.  Reflexology is a noninvasive treatment safe enough for babies.
The more I learn about Reflexology, the more I like sharing the information about a simple and "feel good" therapy with clients, family and friends. Helping others feel better and have less pain and more energy brings me joy!
Reflexology Prices-60 minutes-$65; 30 minutes $30
Purchase 4 Reflexology sessions in advance and receive your 5th one  free!
The phone number to schedule an appointment at Momentum Yoga & Wellness, Morehead City, NC  252-725-1851.
Gift certificates are available at MOMENTUM yoga & wellness for Massage Therapy & Reflexology.