NEW STUDENTS, YOUR FIRST YOGA CLASS IS FREE!!
E-mail kristin@momentumyoganc.com to Register for your first free class!
Join Holly Fisher, Wednesday, March 10th @ 2:00 pm or 6:00 pm for a Slowing Down & Patience Workshop!!  We will meet for an afternoon, having the opportunity to let the outside world go.
A time for reflection utilizing several meditation techniques.
In addition to a guided meditation, we'll also each have our person labyrinth path to follow for a walking meditation.
Towards the end of our time together, we will support each other through an obstacle of walking across broken glass. An exercise ~ conquering your fear, slowly and patiently, with the support of the group.  Cost $25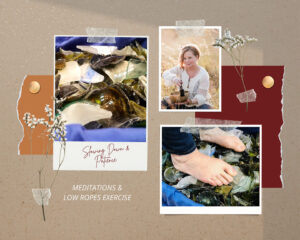 There are several ways to practice with us!  Come to the studio, we have 9 spaces available that are measured off to provide ample space for social distancing.  We also record all of our classes and put them on our website that are available to view at anytime if a particular class time doesn't work for you!  We will also continue to offer LIVE virtual classes as well for those of you who prefer to stay at home. When registering for classes you will see an option for a LIVE On-line class plus the class name or a regular scheduled in studio class option. If you sign up for a LIVE On-line class you will receive a ZOOM link to your e-mail 30 minutes prior to class time.  We want to assure you that we take the health and well-being of our community of students and teachers very seriously.
To help prevent the spread of COVID-19 at Momentum Yoga & Wellness we will:
1.  The Studio, front desk and bathrooms will be cleaned and sanitized between each class.
2.  There are X's on the floor to indicate where mats can be placed in the studio to ensure at least 6 ft of distance between mats.
3.  ALL classes will be limited to a maximum of 9 students.
4.  Due to limited class size, sign-up is required online prior to attending classes. You can register for a class by going to the website: 
www.momentumyoganc.com
; click on schedule then put your username and password in the upper right hand corner. Then you can click on the class you want to book. You can also download the Mindbody app to book! If you need any assistance with your account or to sign up for a class e-mail me at 
kristin@momentumyoganc.com
5.  Please show up 10-15 minutes before class begins; there will be no last minute or late arrivals.
6.  There will be no "hands on" adjustments by teachers and the teacher will maintain a distance of 6 ft from students.
7.  Signs will be posted reminding students to maintain social distancing and hand washing.
8.  Cleaning supplies will be available at all times for students and teachers to sanitize.
To minimize contact with Covid-19 while at the studio, we will require students, teachers and staff to:
1.  Screening for illness prior to entry with questionnaire, COVID Waiver and temperature checks must be completed before entering the building.
2.  Wash their hands or use hand sanitizer upon entry to the studio and after using the bathroom.
3.  Students will need to bring and use their own yoga equipment (For example: mat, 2 blocks and a blanket)
MOMENTUM yoga & wellness is dedicated to your well being; body, mind, and spirit. We offer a welcoming community, yoga from a variety of traditions, Private Yoga classes in the studio and on Location, Paddle Board Yoga, personal training, small group training, yoga teacher training, massage therapy, and reflexology.
The Crystal Coast's premier yoga studio since 2008, we are conveniently located near the beach in the Lowe's Food Center Plaza in Morehead City.