Kim Armstrong
Born and raised in Jacksonville, NC Kim Armstrong is a life long local and is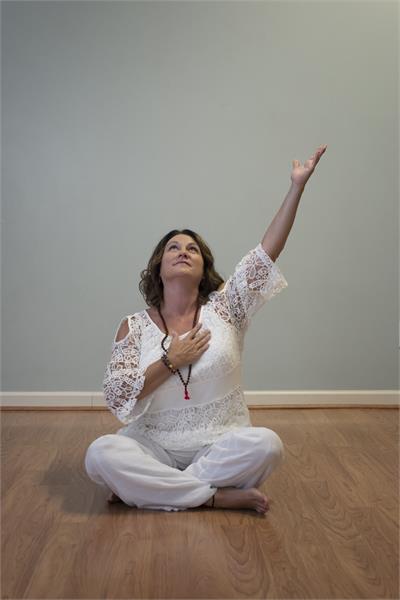 proud to call our area home. She has been practicing yoga for over 10 years and has experience with many different studios as well as different styles of yoga. After the very first class she took, she knew yoga would be a lifetime pursuit. In 2018, Kim graduated from Yoga-Mojo teacher training as a certified instructor with 230 hours of course study. With the love of her community and yoga, Kim brings her own personality to her classes by creating an open and inviting atmosphere for everyone and especially those who are interested in starting their own yoga journey.
Greg Bogard
Greg has been practicing yoga since 2011 and teaching since 2014. His

yoga journey began when, after seeking relief from years of typical middle-aged ailments, he decided to see if yoga could do what meds and physical therapists could not. Within months of beginning his practice, Greg was not only living free of pain, but through the inspiration of his instructors, had begun to realize there was wellness within the practice of yoga that went beyond the physical body. Desiring to learn more, Greg underwent teacher training and graduated the YogaWorks 200-hour program at MOMENTUM Yoga & Fitness in 2013 and completed his 300-hour program through Asheville Yoga Center in 2018. Greg is a Registered Yoga Teacher (RYT500) with the Yoga Alliance®. He is grateful for the opportunity to instruct while continuing to learn and grow as an enthusiastic student of the yoga tradition.
Cindy Cash
Cynthia Ruth Cash, a resident of Wilson and Beaufort, is a retired teacher who has called North Carolina home since the 1980s.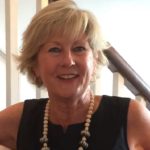 Born in Brevard, Cindy's childhood was a nomadic one spent in Tennessee, Alabama, Missouri, and finally, Kentucky. She received her undergraduate degree in education from the University of Kentucky, and an MaEd in English from East Carolina University.
Cindy has been an involved community volunteer in Wilson, serving on the boards of the Wilson Medical Center Hospital Auxiliary, the United Way, Wilson on the Move, and the Arts Council of Wilson. She and her husband Jim have been active supporters of the Imagination Station Science Museum, and are members of the First United Methodist Church.
Cindy and her husband are the parents of three adult children and grandparents of seven. Her interests include travel, teaching yoga, and reading. Her passion remains education, particularly in non-traditional and alternative environments.
Kay Dixon
Kay practiced yoga for many years and, as a special education teacher,

recognized the power of stress reduction.  As the first Certified Conscious Discipline Instructor (CCDI) in North Carolina, she found herself saying to teachers, "Before you can help children behaviorally, you must be calm." The program moved on without teaching the adult how to self-calm when "take a deep breath" wasn't enough.  She began looking for something to meet that need and came full circle, back to yoga.
Kay completed RYT-200 through the Yoga Works teacher training program at MOMENTUM yoga & fitness in 2013.  She enjoys working with seniors and beginning yogis.
Katy Dyer
I have always been a person of movement: a competitive cheerleader, softball player, and long distance runner. In an effort to shed my shell of intensity

hardened by competition, I stepped on a yoga mat for first time in 2013 in an effort to find peace, light, and stillness.  Today my intensity can be seen in my passion for a continuous practice and study of yoga. I offer space for others on all paths on a yoga journey to rid themselves of the rigidity that life and competition create – a place for them to find the energy and vigor of fluid movement and a quiet stillness to find the grace and peace that is created when we rid ourselves of the expectations and find contentment in our present wholeness.
I completed my 200 hour Yoga Teacher Training with Transcending Yoga in Swansboro, North Carolina. I am deeply grateful for the compassionate guidance that my teachers have shared with me, for they have shown me that yoga is an ever-developing wholeness, a contentment with who you are in a present moment and an understanding of all the variances and changes that exist within you.
Kate Francesca

After two decades of practicing yoga in New York and North Carolina, Kate decided to enrich her practice and her life by becoming a teacher.  Shecompleted the 200 hour RYT training in 2011, graduating from Transcending Yoga, a Yoga Alliance registered school.
Kate is committed to making a positive difference in the lives of others through the transformative power of yoga.
Lexi Godfrey
Hi! My name is Lexi Godfrey and I am thrilled to be teaching here at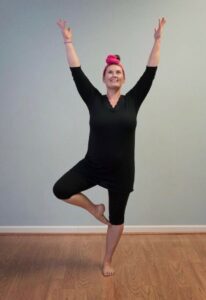 Momentum! I came to yoga as a child and have benefited tremendously from incorporating a personal practice throughout my life. I started teaching preschool in 2011 and began weaving yoga into our daily routines in the classroom. In 2018, I was thrilled to have the opportunity to complete teacher training with Loretta Jo Schlatzer here at Momentum!  Our wonderful training program deepened my love of yoga and I feel incredibly blessed to have studied under such an accomplished teacher. I am passionate about bringing yoga to children and I strive to bring a fun and playful approach to all my classes. I look forward to seeing you on the mat!!
Linda Fulcher
Linda graduated from the 200 hour Yoga-Mojo Yoga Teacher Training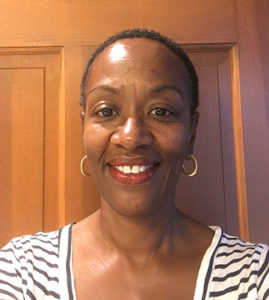 Program at Momentum Yoga and Wellness in 2018.  Linda's personal practice of yoga and her teaching are informed by her background in physical therapy, personal life coaching, and longstanding practice of meditation and service to others.
Linda holds a certificate in the Yoga of 12-Step Recovery, and is actively working to offer the support and healing of yoga to people suffering from the disease of addiction, their families and friends.
Linda enjoys bringing devotion, intellect, humor and inspiration into her classes, and invites practitioners to join her on a journey that balances the spiritual, mental and physical aspects of yoga by connecting each breath with movement, and joy.
Lynette Johnson
We are so excited to announce that Lynette Johnson will be coming to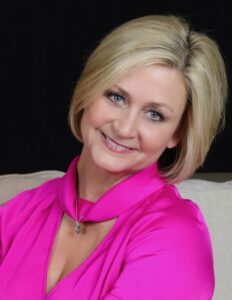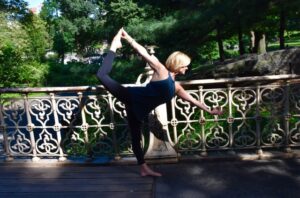 Momentum Yoga & Wellness July 1st to teach two new classes!! Core Fusion will be taught on Monday and Wednesday @ 10:30 am and Pilates Mat 1-2 will be offered by Lynette on Tuesday and Thursday @ 10:30 am.
Testimonial from Bobbie O'steen-The Truth from one of my students of 4 years here in NYC: Lynette Johnson has all the best qualities for a yoga and Pilates teacher: her energy, spirit and expertise are always evident. The content of her classes is constantly inspiring and challenging, and she is really clear in her directions regarding posture, moves and positions. She is also very attentive to what we're doing at every moment and always helps us make the necessary corrections. I have taken yoga and classes with many teachers over the years and I can say, unequivocally, that Lynette is my favorite
Lynette Johnson has been teaching fitness and dance for over 35 years. She is a professional dancer/ teacher and musical theatre performer as well as being the mother of two amazing children, Katie and Ashby. After college, Lynette was hired to teach ballet at the ECU School of theatre and dance and the NC Academy of Dance Arts. She also was selected to be the choreographer and coach of the East Carolina University Dance Team. While teaching and directing dancers, Lynette also became a fundraiser for ECU Athletics, which led to an Assistant Athletics Marketing Director position, under Jimmy Bass, now Athletic Director at UNCW. While working at ECU in the Athletics Department, Lynette continued her love for the arts, performing in ECU Summer Theatre productions and becoming the director of the Friends of Theatre and Dance, where she would be a board member for the next twenty plus years.
Years later, Lynette was named Director of Dance at Arendell Parrott Academy, where she worked for twelve years, cultivating a successful dance program. Parrott Academy holds a special place in Lynette's heart, not only for the memories she has with her dancers, but also for the wonderful memories she has with her own children while they were students at APA.
After receiving a 200-hour Yoga Certification through YogaWorks, NYC at Momentum Yoga in Morehead City in 2013, Lynette decided to move to NYC to pursue a 500RYT. After six months of rigorous training, Lynette made the decision to stay and teach in NYC. She now teaches Dance, Yoga, Pilates, Core Fusion and Barre in NYC. A teacher at YogaWorks, NYC since 2014, she is also currently a teacher at Broadway Dance Center NYC, 45th, where has been a featured guest artist fitness teacher since 2015. Lynette is a founding teacher and consultant for BDCFIT (bdcyoga.com), where she teaches Pilates, Core Fusion and Yoga. She teaches Ballet, Tap, Tiny Yoga and Broadway Ballet at Broadway Dance Center Children & Teens, which she has been there since its opening in 2017. She is also a founding member of the Women's Wellness Workshop NYC and a former Community Coordinator for Athleta and has been featured teacher for Athleta and Lululemon, NYC.
Passionate about teaching and building community, Lynette loves being a part of her student's personal fitness goals. While helping her students understand alignment and proper postures, she motivates with energy, positivity and love. Refreshingly unique, Lynette makes her students feel special while helping them become stronger energetically, mentally and physically, while feeling "that" sense of community
A North Carolina Native, Lynette is happy to come home to her roots, literally to Momentum Yoga, to be a part of the summer program there. She is looking forward to being a part of the studio where she began her yoga journey, six years ago, and having the opportunity to work with the new owner of Momentum Yoga, beautiful Kristin@momentumyoganc.com along with fellow 200-hour YogaWorks grads from 2013>>>
500 Yoga RYT
Pilates Mat Certified
Barre Certified
CPR & AED Certified
BFA in Dance
Jamie Jones
Jamie Jones is the mother of 4 boys and is from Draper Utah. She grew up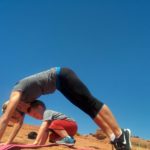 playing basketball, skiing, and wakeboarding. She started practicing Yoga in College while studying Photography at Utah Valley University in Orem Utah. After moving to St. George and having 3 boys yoga became her survival. She fell in love with with practice and the way it strengthened her mind, body and spirit.  Jamie received her 200 RYT Yoga  certification from BeHot yoga in St. George in 2013.  She started teaching immediately and got pregnant with another little boy…She taught yoga all through out her pregnancy which was very beneficial for her and the baby. He is her yoga baby and came out practicing yoga. Jamie loves to share her practice and connect with others by teaching yoga!
Cheryl LeClair
Cheryl has completed Duke Integrative Medicine's Yoga for Senior's Therapist program and is certified to teach trauma sensitive yoga through the Trauma Center at the Justice Resource Center.  In addition, she has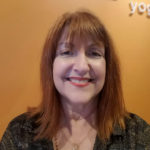 completed advanced training in iRest Yoga Nidra training with Richard Miller, PhD of the Integrative Restoration Institute.  Cheryl taught iRest and yoga at Camp Lejeune for Lejeune Navel Hospital's "Back on Track" program for Post-Traumatic Stress Disorder.  She was selected for the February 2011 "Hero Spotlight: by the Defense Center of Excellence for Psychological Health and Traumatic Brain Injury "DCoE in Action"  publication.  Cheryl is also a Reiki Master in the Usui Reiki tradition.
Kristin Martin-Owner
Kristin has practiced yoga for 15 years.  She came to Momentum Yoga in 2016 after moving from Roanoke Rapids, NC.  Kristin believes practicing yoga with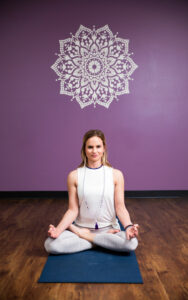 teacher Leilani Walker changed her life.  "Every time I came to Leilani's class she awakened my soul more and more.  Through her yoga flow, breathwork and mediation I began to connect to my authentic self that had been buried under decades of bull shit!"  In 2018 Momentum Yoga offered a teacher training program through Yoga Mojo and Kristin jumped at the opportunity to learn more about yoga.  "I never went into this journey with a desire to teach but a desire to learn!"  She embraced the training with her whole heart.  "I'm so thankful and grateful to Loretta Jo!  For the experience and her teachings!  There isn't a day that goes by that she doesn't use some of what she learned in the program.  For me the program was life changing!"  Teaching yoga has now become my passion!  I want to hold space for others to practice yoga, to connect with breath and each other that is safe so that they too can connect to their authentic selves.
Jessica Minks
Jessica Minks is a Yogi trained in Hatha and A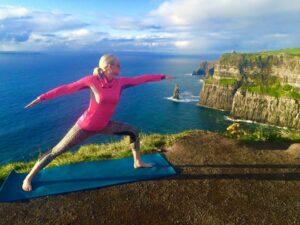 shtanga yoga principles. She was born in North Carolina, but has traveled and taught yoga all over the world.  She received her formal training on the island of Møn in Denmark, but had been training under the guidance of two very seasoned Yogis from India while she was living for many years in Vancouver, British Columbia, Canada. It was while she was studying with them that she became inspired to receive to get her formal Yoga training and dreamed of teaching in Europe. She has successfully taught yoga in 5 different countries and eventually opened her own studio in Denmark called The Zen Den. She is passionate about yoga, meditation, natural medicine and wellness and loves to share this passion with all she meets!
Juli Saylor

Juli's desire is to spread her passion for yoga on and off the mat. Teaching comes naturally to Juli and she brings great energy to the studio. She graduated from Seaside Yoga of Wilmington with her 200 RYT in September 2008 with an emphasis on Anusara yoga. Juli completed her 300 hour program in January 2016 through Asheville Yoga Center. She currently holds her 200-ERYT and 500 RYT. She honors her teachers Lisa Colletti, Susan Koepp, Ashley Ludman and Rachael Crawford Goolsby.
Annette Tersigni
Annette is known as the Yoga Nurse, is a former cover girl and Hollywood actor turned nurse and stress management expert.  Her programs are

endorsed by doctors and nursing organizations, as a safe adjunct therapy to increase quality of life.  For the past 16 years, she has been educating people around the world to lead more spiritual lifestyles.  A sought-after coach, trainer, speaker and writer, she has been featured extensively in the media.
Michelle Thornell
Now a retired law enforcement officer, Michelle began practicing yoga in 2001 while searching for stress relief from her job. Yoga inspired her to become a yoga teacher in 2003, studying with Master Purna yoga teacher Aadil

Palkhivala as well as Tias Little, Elise Browning Miller, Terry Brown and others. She continues her studies and is now an ERYT200/RYT 500, with a wealth of knowledge on safe alignment in asana. She has studied yoga therapeutics with Aadil, SATYA (Sensory Awareness Training for Yoga Attunement) with Tias Little and is currently attending East Coast Yoga Therapy program to become a Yoga Therapist. She is known for her sense of humor when presenting, while adapting her classes and workshops to the level of her students and their needs.
Leilani Walker
Leilani loves yoga. She believes that it has the power to connect us to our inner guide, reveal the truth of who we are, reset our happiness meters, and expand our compassion as we evolve from practicing yoga on the mat to the real beauty of being our practice.

Leilani has been practicing yoga since 2000. She completed a 240 hour certification in 2008 with The NC School of Yoga from the lineage of living yoga master Sri Dharma Mittra. In 2010 she completed an advanced yoga teacher training course with her teacher, Erich Schiffmann. She received her 500 hour certification after studying with Jill Sockman in Raleigh.
Mary Winter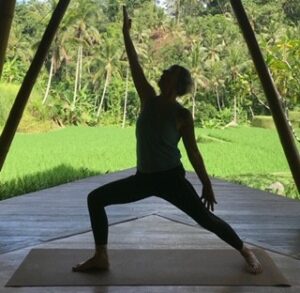 "Yoga will come to you when the time is right."  Mary came to yoga later in life after a traumatic experience in her life.  She was invited to try a free yoga class at which time her love affair with yoga began.  She has been an instructor for several years, and is a Certified RYT 200.  She is also a certified Aerial instructor, and has taken many workshops to expand her knowledge including with David Swenson, world renown Ashtanga Instructor, and Sarah Powers, Yin and Mediation instructor.
Her emphasis is on proper alignment, and the use of props and modifications, she works to make not only safe but accessible to everyone no matter what your age or fitness level.  She combines both yin yoga (a cooling practice that allows for the opening of the fascia and joints) with slow flow (Vinyasa) providing instruction on aligning breath with the fluid movements.  Classes are intended to meet all practitioners needs-and to honor and empower the students journey towards personal growth and well-being.  She believes that you "don't use your body to get into the pose, rather use the pose to get into the body."
With her passion for yoga as well as a light hearted sense of humor, she hopes that the student will not only gain increased physical strength, flexibility, and pain relief; but a deeper connection with Self, yoga, and the present moment that can be applied both on and off the mat.